WolfArc
Robotic Welding Made Simple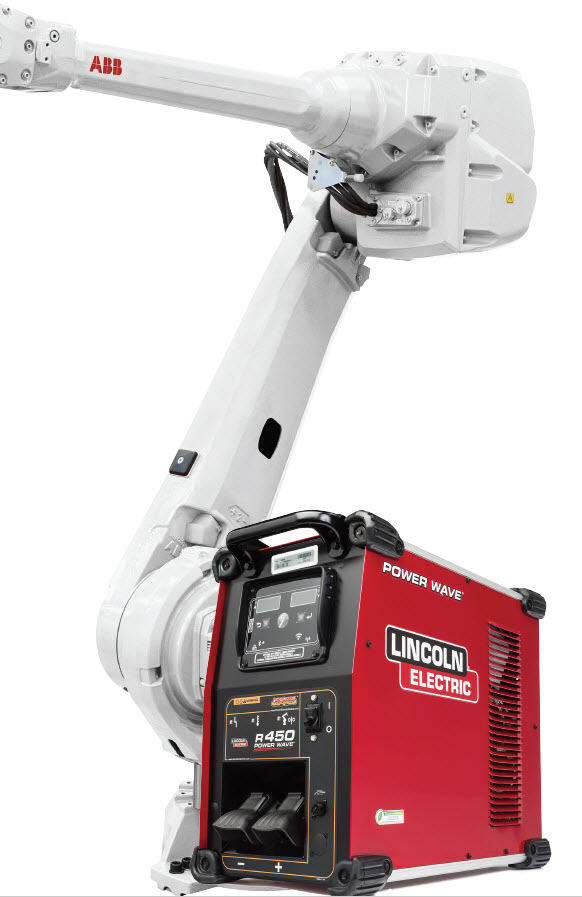 Robot & Power Wave Become One
WolfArc™ software, the ABB® robot and Lincoln Electric® Power Wave® become so integrated it's as if they're are fused together as one element.
WolfArc software delivers the next generation of robotic welding technology with high-speed ArcLinkXT™ communication between the Power Wave and the ABB robot controller. WolfArc produces high quality welds quickly, easily and intuitively.
Weld development is simplified to two easy steps. Inexperienced welders can master setting weld parameters without manuals or guidance. Just select your weld size and material thickness and WolfArc will instantly access weld knowledge in the Power Wave and recommend weld settings and robot motion parameters.
A Better Way To Weld
Integration
Complete synchronization between ABB welding robot motion and Power Wave welding waveform.
Weld Development Interface
Delivers an easy and fast way to develop new welds. All you need to do is select joint type and metal thickness. You can easily tune and adjust parameters as needed with WolfArc's tuning module.
Ease of Operation
Built in Power Wave weld templates allow less experienced welders the ability to achieve excellent weld results quickly. WolfArc software leverages The Welding Experts® Lincoln Electric's 100+ years of welding knowledge and puts it at your fingertips.
Modular
Software modules available for TouchSense, Through-the-Arc tracking, Stitch Welds, Advanced Multi-Pass, Weld Quality Monitoring and Adaptive Joint Filling (Calc-Adapt) for heavy welding.
Increase in Productivity
No manuals needed, user is guided through weld parameters selection, saving time in weld development. Spend less time programming & testing and more time making parts.
Take Control of Your Welds in 2 Easy Steps
WOLFARC SOFTWARE EASE OF USE
Intuitive welding controls at your finger tips. The Interface provides descriptive system messages, detailed information about the weld parameters, current status and, weld configuration screens, so you can focus on welding rather than using manuals and looking up weld settings.
Step 1: Define weld size and material thickness

Step 2: Fine tune and adjust weld as needed.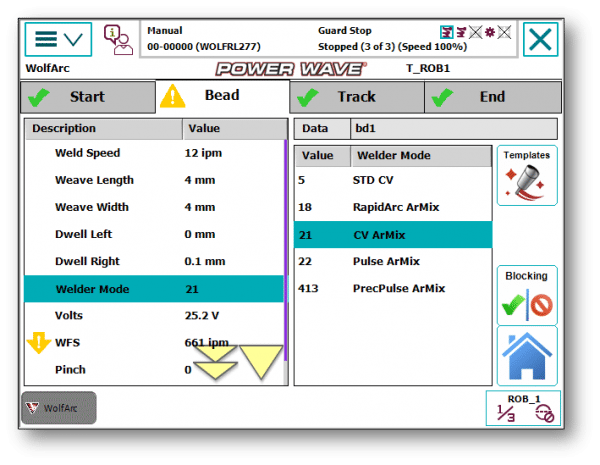 WELD PARAMETER MANAGEMENT
Actively Monitor Welding
Easily monitor amperage, voltage, wire feed speed, wire feeder motor current, torch stick out and adjust weld settings as needed.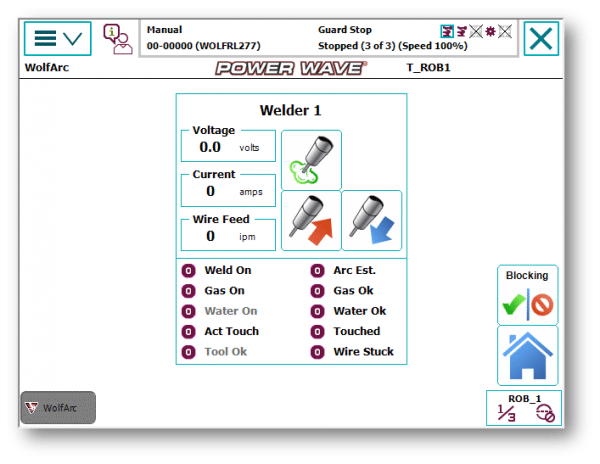 Torch angle display
Welding Torch Angle Viewer
Programmer can easily view work angle, travel angle and level angle for a smooth and consistent weld path.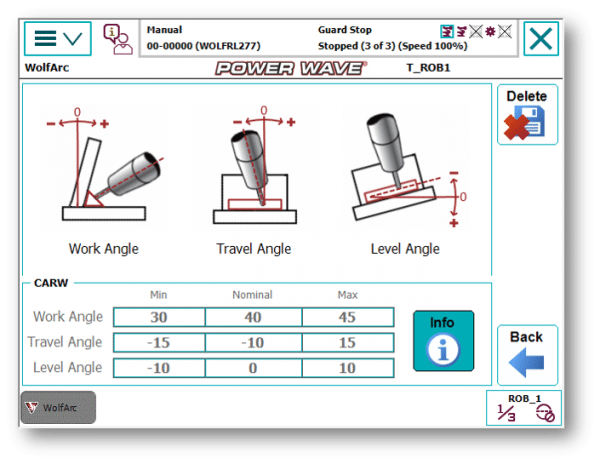 No Manuals Needed with Detailed Weld Parameter Information