Automating can be a big decision. We understand you want to make sure automation is the right choice for your business. Our experts are here to help you determine if automation is a good fit, but below are some readiness key indicators that may help you understand what it takes to succeed in automation.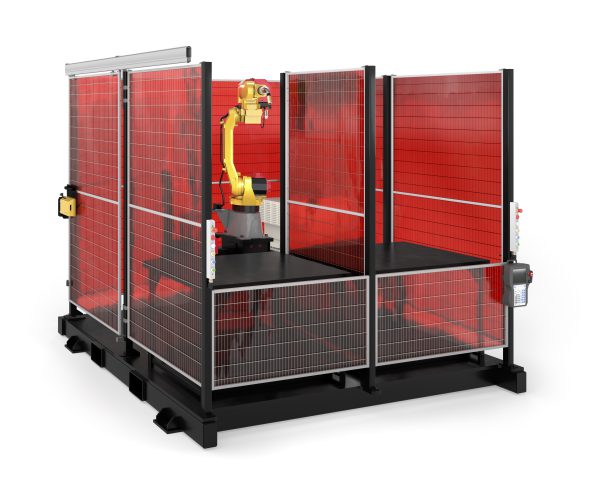 Questions to ask yourself and and points to consider…
Will robotic welding work well for my business?
| | |
| --- | --- |
| | Businesses with parts in high volumes or feature commonality are great for robotic welding. However, automation can still work for operations with high mix and low volume fabrication. |
| | "I can't find skilled welders." We hear this often and it's a great reason to consider robotic welding. |
| | "Labor cost is increasing for skilled welders, we have to automate to stay competitive." |
| | Does your business have this problem…?"We just can't keep up with demand." |
| | Do you feel, "Our quality fallout is unacceptable?" |
| | Do you need a general cost reduction? |
Why should you consider robotic welding?
| | |
| --- | --- |
| | Increase quality and consistency |
| | Improve throughput and increase capacity |
| | Lower manufacturing costs |
| | Improve occupational safety |
| | Address skilled labor shortage and wages |
| | Additional business potential |
| | Reduce post-weld operations |
It's not just about the robot…it's about the people too.
We're here to help train and support you to make sure you have all the key people ready for success.
Automation Champion
To succeed in automation, it's helpful if you identify the person who will lead and own robotic welding at your business.  They need to be eager and willing to learn robotics and it's valuable if they understand the science behind welding. We can help fill-in any gaps in technical knowledge.
Who can operate the robot?
The robot operator just needs to know how to load parts and press GO. This person doesn't have to be a skilled welder.
Are your fabrication parts right for robotic welding?
Great signs your production parts are ready for automation are:
Laser or CNC plasma cut parts
Pre-tacked
Machined parts
Punched parts
Slot-and-Tab
These are all good signs that your parts will work well with robotic automation.  Part consistency and part fit-up are very important when considering robotic welding. Basic rule of thumb is gaps should be less than 1/2 the wire diameter. Our experts are here to help you evaluate if your parts are ready for automation. They can also make recommendations on how to get your parts ready!
Tooling is Key
Our experience has shown that tooling is critical to success. From consulting on your design to having us fully design and build your custom tooling…we've got you covered.
Tooling must present parts in a repeatable manner
Modular tooling can reduce changeover time
Tooling can be hold-only (pre-tack) or hold & locate
Automation doesn't have to happen all at once.
We have several customers who phase in robotic welding.
We can help you add robotic welding at a pace that works for your operation. For example…
Phase 1 starts with a simple manual positoner controlled by  a remote pendant to rotate the weldment for your manual welders optimum comfort and welding position.
Phase 2 is similar only you can preprogram the optimum positions for each weld and step through to each location with the touch of a button.
Phase 3 incorporates the Wolf Cell Control that automates the process to the next degree. The controller can be programmed to rotate the weldment to specific angles and positions ideal for the welders access and optimum welding position. Then the monitor will show the welder just what welds are required and where they are located.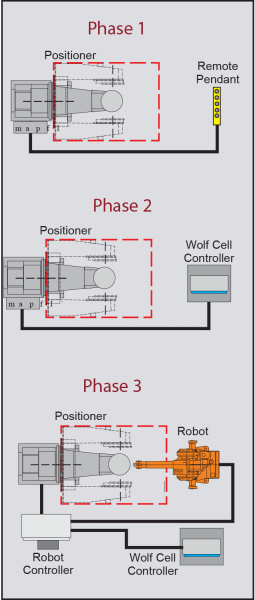 How can we help?
Every robotic solution we provide starts with a problem. Let us know how we can help solve yours.