Wolf Robotics Wins Colorado Photonics Company of the Year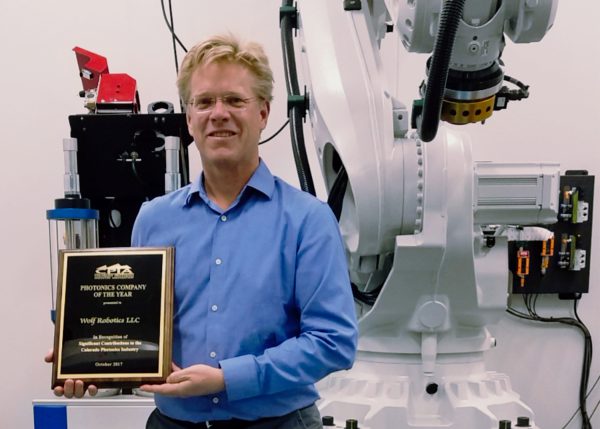 Boulder, Colorado, October 24, 2017 The Colorado Photonics Industry Association (CPIA) will name Wolf Robotics, a subsidiary of Lincoln Electric, as the 2017 Colorado Photonics Company of the Year. The award will be presented to Wolf Robotics of Ft. Collins, Colorado, on Tuesday, October 24th 2017 at the CPIA Annual Meeting held at the University of Colorado at Boulder University Memorial Center.
The CPIA presents the Colorado Photonics Company of the Year award to the business or institution that has contributed greatly to the growth and prosperity of the Colorado photonics industry. Wolf Robotics is a recognized leader in the design and development of automated robotic systems for arc welding, cutting, cladding, 3-D metal printing, material removal and material handling. Their solutions   integrate photonic technology ranging from sensors to high-speed cameras to facilitate quality control and material processing for the welding, cutting and 3-D metal printing processes. Wolf Robotics is part of Lincoln Electric's industry-leading portfolio of arc welding and cutting automation solutions and global automation team of 1,400 employees.
About Lincoln Electric
Lincoln Electric is the world leader in the design, development and manufacture of arc welding products, robotic arc welding systems, plasma and oxyfuel cutting equipment and has a leading global position in the brazing and soldering alloys market. Headquartered in Cleveland, Ohio, Lincoln has 63 manufacturing locations, including operations and joint ventures in 23 countries and a worldwide network of distributors and sales offices covering more than 160 countries. For more information about Lincoln Electric and its products and services, visit the Company's website at www.lincolnelectric.com.
About CPIA
The Colorado Photonics Industry Association ((http://www.coloradophotonics.org) is a not-for-profit organization dedicated to encouraging cooperation, collaboration, and partnership among the 250 industrial, academic, and governmental organizations in Colorado involved in optics and photonics technologies. CPIA's mission is to promote the Colorado photonics industry and to enhance the profitability of its members. In addition to industrial organizations ranging from start-ups to Fortune 500 companies, the photonics community in Colorado includes four national laboratories and five academic institutions. The last three Nobel Prize winners for physics in Colorado have been predicated upon photonics related research. For more information, please visit www.coloradophotonics.org .