CAR-W™ (Computer Aided Robotic Welding) Featured in Welding Journal, June 2017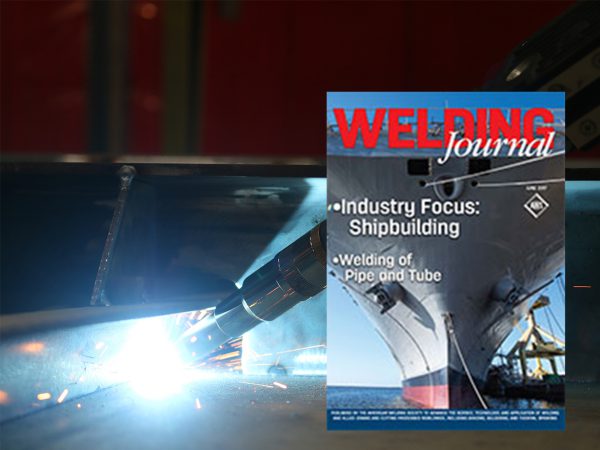 Welding Journal featured our new technology Computer Aided Robotic Welding…CAR-W.  CAR–W is automated robotic path planning software. Using CAD models, CAR-W generates a collision-free path for welds. No programming needed. The article written by Wolf Robotics Project Manager, Jeff Penoyer, discusses how CAR-W works and the benefits. AWS members can read the full article here. 
HOW CAR-W WORKS:
Export CAD model and weld information to CAR-W.
CAR-W will automatically select the best path for the weld process and generate a collision free path program for all the welds.
Download path program to robot and begin welding.
CAR-W BENEFITS:
SIGNIFICANT TIME SAVINGS
Now, you can forget about hours of time consuming programming. With CAR-W, weld programs are automatically generated allowing you to download andstart welding.
TRULY FLEXIBLE, COLLISION FREE AUTOMATION
New design or product configuration? No problem. Other robotic welding solutions for shipbuilding can only handle a set of manually pre-defined part configurations. This limits the product categories that can be welded and drives costly programming and "software updates."
CAR-W knows your part geometry, your weld call-outs, and your weld procedures. As long as the part allows access, CAR-W automatically plans the robot motion for each weld while navigating obstacles, pushing into tight corners, avoiding cable wrap-up, and maintaining proper weld gun angles.
QUALIFIED WELD PROCEDURES
CAR-W puts you in control. A weld procedure database secures your process information and makes qualified procedures available for use in automatic CAR-W program generation. Simple, intuitive tools allow you to easily upgrade your manual welding procedures to an all-digital, robot-class format, capturing the process knowledge from your workforce and preserving it for the future.
AMERICAN INGENUITY & U.S. BASED SUPPORT
Your investment is 100% designed, manufactured and backed by a team of experts with over a century of welding and automation experience, based right here in the U.S.A.
FULLY INTEGRATES WITH EXISTING PRODUCTION
CAR-W enables welding automation for applications previously thought to be too complex. Adding a CAR-W enabled system can automate challenging welding tasks including mid-to-late stages of panel production, and intricate sub-assemblies.
Watch Video from the CAR-W Demo